How to buy a house with $0 down: First time buyer
How to buy a house with little to no money down.
A no down payment mortgage allows first-time home buyers and repeat home buyers to purchase property with no money required at closing, except the standard closing costs.
Other options, including loans from the FHA, Fannie Mae, and Freddie Mac, allow you to buy with just 3% or 3.5% down. And there are grants and loans that could cover your down payment requirement.
Thanks to these programs, home buyers no longer have to save for years to buy a home. A survey states that 36% of renters are ready to buy and simply don't know it yet.
Can you buy a house with no money down?
It's possible to buy a house with no money down using one of two strategies. You can either qualify for a zero-down mortgage or find an assistance program to cover your down payment (and potentially closing costs, too).
Five strategies to buy a house with zero down include:  
Apply for a zero-down VA loan or USDA loan
Use down payment assistance to cover the down payment
Ask for a down payment gift from a family member
Get the lender to pay your closing costs ("lender credits")
Get the seller to pay your closing costs ("seller concessions")
When combined, these tactics could put you in a new home with little money out of pocket.
You could get your down payment covered, and then you'd only need to pay closing costs out of pocket — which could reduce your cash requirement by thousands.
Low down payment first-time home buyer loans
Not everyone will qualify for a zero-down mortgage. But it may still be possible to buy a house with no money down by choosing a low-down-payment mortgage and using an assistance program to cover your upfront costs.
If you want to go this route, here are a few of the best low-money-down mortgages to consider.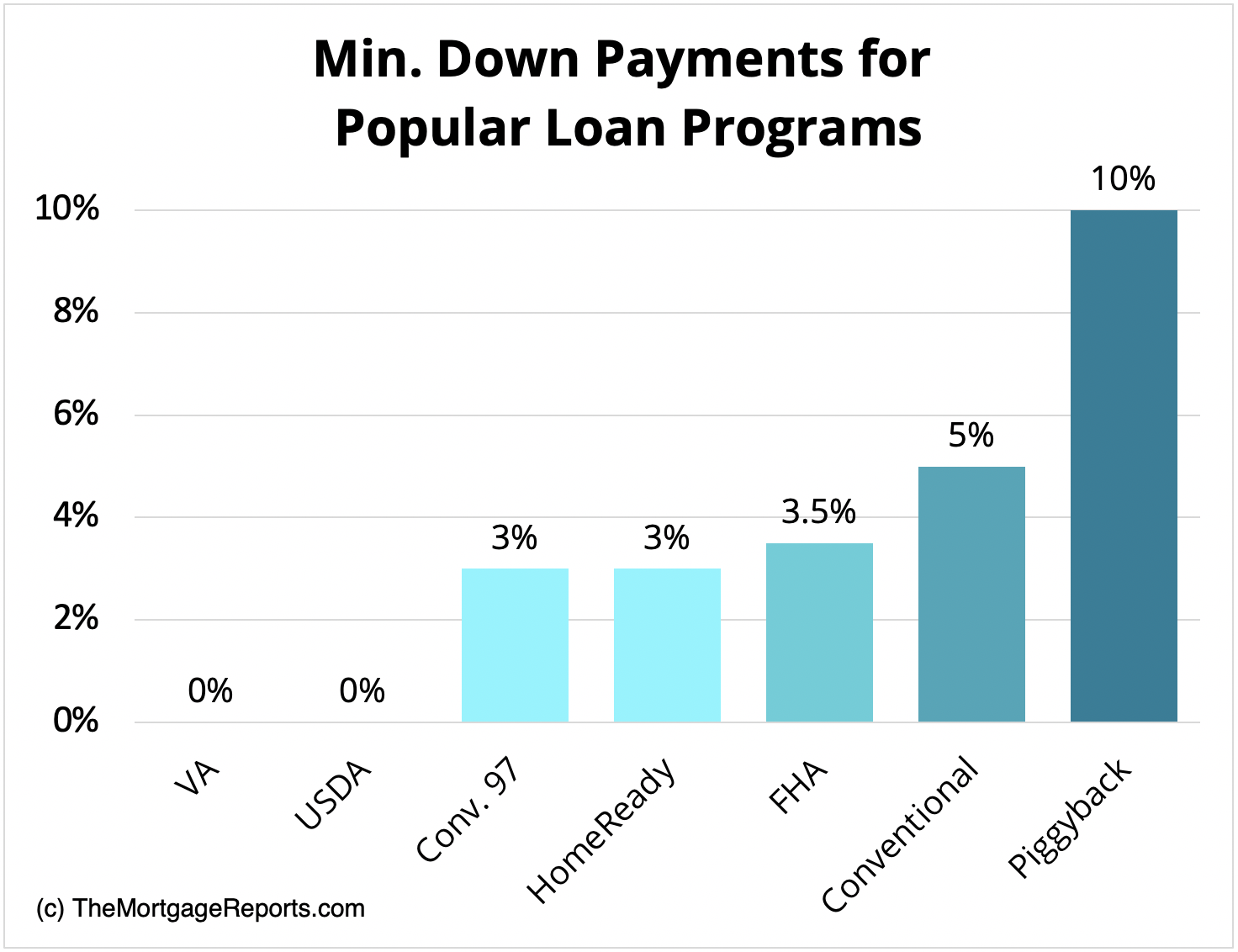 Home buyers don't need to put 20% down
It's a common misconception that 20% down is required to buy a home. And, while that may have true at some point in history, it hasn't been so since the advent of the FHA loan in 1934.
In today's real estate market, home buyers don't need to make a 20% down payment.
The likely reason buyers believe 20% down is required is because, without 20 percent, you'll have to pay for mortgage insurance. But that's not necessarily a bad thing.
PMI isn't all bad
Private mortgage insurance (PMI) is to protect the lender in the event of default or foreclosure — that's all it's for. However, because of the costs, PMI gets a bad rap and many home buyers still try to avoid it at all costs.
Because of PMI, home buyers can get mortgage-approved with less than 20% down. And, eventually, with enough equity the private mortgage insurance can be removed.
At the rate today's home values are increasing, a buyer putting 3% down might pay PMI for fewer than four years.
That's not long at all. Yet many buyers — especially first-timers — will put off a purchase because they want to save up 20 percent.
Meanwhile, home values are climbing.
For today's home buyers, the size of the down payment shouldn't be the only consideration.
This is because home affordability is not about the size of your down payment — it's about whether you can manage the monthly payments and still live a comfortable life.
A large down payment will lower your loan amount, and therefore will give you a smaller monthly mortgage payment. However, if you've depleted your life savings in order to make that large down payment, you may have put yourself at risk.
Don't deplete your entire savings or retirement
When the majority of your money is tied up in a home, financial experts refer to it as being "house-poor."
When you're house-poor, you have plenty of money on paper but little cash available for everyday living expenses and emergencies.
And, as every homeowner will tell you, emergencies happen.
Roofs collapse, water heaters break, you become ill and cannot work. Insurance can help you with these issues sometimes, but not always.
That's why being house-poor is so dangerous.
Many people believe it's financially conservative to put 20% down on a home. If 20% is all the savings you have, though, using the full amount for a down payment is the opposite of being financially conservative.
The true financially conservative option is to make a small down payment and leave yourself with some money in the bank. Being house-poor is no way to live.